Cookie-Einstellungen
Diese Website benutzt Cookies, die für den technischen Betrieb der Website erforderlich sind und stets gesetzt werden. Andere Cookies, die den Komfort bei Benutzung dieser Website erhöhen, der Direktwerbung dienen oder die Interaktion mit anderen Websites und sozialen Netzwerken vereinfachen sollen, werden nur mit Ihrer Zustimmung gesetzt.
Friedensreich Hundertwasser: 6-teiliges Gläserset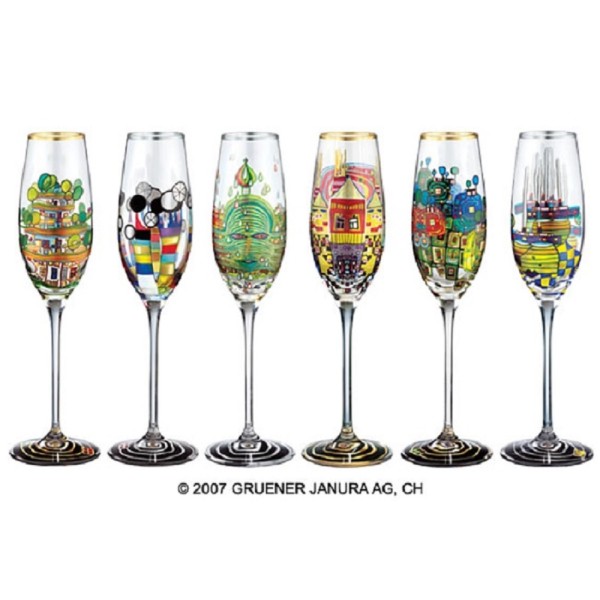 inkl. MwSt. zzgl. Versandkosten
ars mundi Exklusiv-Edition | Glas | Gold- und Silberdekor | Höhe je 24 cm
Beschreibung
Wie ein Juwel leuchten die Kunstwerke von Friedensreich Hundertwasser auf einer Sekt- und Champagner-Gläser-Edition der Superlative: Gefertigt von der Königlich privilegierten Porzellanmanufaktur Tettau in bis zu 20 Transparent-Farben mit Gold- und Silberelementen auf edlem Glas. 6 Gläser im Set. Höhe jeweils 24 cm, Vol. je 0,15 Liter. Handspülung empfohlen. ars mundi Exklusiv-Edition.
Sektglas "Die Häuser hängen unter den Wiesen": Werknummer PM IX/5.
Sektglas "Korallenblumen": Werknummer PM IX/4.
Sektglas "Green Power": Werknummer PM IX/1.
Sektglas "Schneckenhäuser mit schwarzem Rauch": Werknummer PM IX/2.
Sektglas "Pavilions and Bungalows for Natives and Foreigners": Werknummer PM IX/3.
Sektglas "Pazifikdampfer": Werknummer PM IX/6.
Copyright 2007 GRUENER JANURA AG, CH
Die abgebildeten Werke sind urheberrechtlich geschützt. Es ist insbesondere nicht gestattet, diese Abbildungen zu kopieren, zu bearbeiten, auszudrucken oder zu veröffentlichen. Zuwiderhandlungen werden straf- und zivilrechtlich verfolgt.
The displayed works of art are protected under the copyright. In particular, it is not permitted to reproduce, to alter, to print or to publish these works of art. Violations will be prosecuted according to civil and criminal law.