Cookie-Einstellungen
Diese Website benutzt Cookies, die für den technischen Betrieb der Website erforderlich sind und stets gesetzt werden. Andere Cookies, die den Komfort bei Benutzung dieser Website erhöhen, der Direktwerbung dienen oder die Interaktion mit anderen Websites und sozialen Netzwerken vereinfachen sollen, werden nur mit Ihrer Zustimmung gesetzt.
Friedensreich Hundertwasser: Schreibgerät nach (839) Löwengasse
La troisieme peau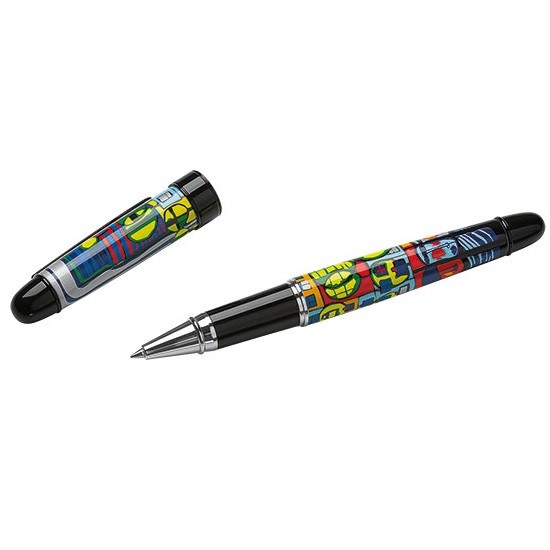 inkl. MwSt. zzgl. 7,95 € individuelle Versandkosten 1
ars mundi Exklusiv-Edition | Signatur | Siebdruck auf Metall | hochglanzlackiert | Rollerball-Mine | Geschenkbox
Beschreibung
Eine im Wortsinne handgreifliche Verwirklichung der Idee Hundertwassers, der Gegenstandswelt die uns umgibt nicht nur funktional, sondern auch gestalterisch große Aufmerksamkeit zu widmen. Nach dem Originalgemälde von Friedensreich Hundertwasser: 839 "Löwengasse - La troisième peau", 1982.
Der Stift wurde in enger Zusammenarbeit mit der Hundertwasser-Stiftung entwickelt. Das hochwertige Schreibgerät hat einen schweren, hochglanzpolierten Metallkorpus, der in aufwendiger Siebdrucktechnik mit dem Hundertwasser-Motiv "La troisième peau" aus dem Jahr 1982 bedruckt wurde. Hundertwasser-Signatur auf dem Mittelring. Eine Roller-Ball-Mine liegt bei, in Geschenkverpackung. Länge 13,5 cm. Ø 1,5 cm. Gewicht 40g. ars mundi Exklusiv-Edition.
Löwengasse ist die Adresse des für die Stadt Wien gebauten "Hundertwasser-Hauses", das jährlich über eine Million Besucher aus aller Welt anzieht. "La troisième peau" stellt für Hundertwasser neben der eigenen Haut (1.), der Kleidung (2.), nun die Außenwände unserer Behausung dar, also die Architektur.
Die abgebildeten Werke sind urheberrechtlich geschützt. Es ist insbesondere nicht gestattet, diese Abbildungen zu kopieren, zu bearbeiten, auszudrucken oder zu veröffentlichen. Zuwiderhandlungen werden straf- und zivilrechtlich verfolgt.
The displayed works of art are protected under the copyright. In particular, it is not permitted to reproduce, to alter, to print or to publish these works of art. Violations will be prosecuted according to civil and criminal law.
Hinweise
1
Abweichend von den Standardversandkosten, welche Sie hier einsehen können, gelten für dieses Produkt die o. g. Versandkosten. Bei mehreren Artikeln mit individuellen Versandkosten im Warenkorb gilt immer nur einmalig der höchste individuelle Versandkostenwert.